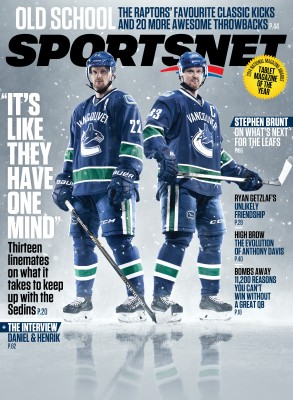 As a kid, I was always envious of the lives of twins. It seemed like there could be no better friend than someone with whom you shared cramped quarters while kicking around in the womb. Having a twin just seemed like so much fun.1
Fun is an apt descriptor for what it's like to watch Henrik and Daniel Sedin play together. The Vancouver Canucks' captain and alternate captain from the tiny hockey hotspot of Ornskoldsvik, Sweden, are identical-twin linemates with eerily similar career points totals. Their chemistry together on the Canucks' top line is a little surreal. So I've always wondered—partly because of the uncanny connection they share, and yes, partly because of my weird twin-obsession—what's it like to be that third guy on a line with them? Doesn't that guy feel left out?
For the most recent issue of Sportsnet magazine, I set out to answer that question, speaking with thirteen of the Sedins' linemates—everyone from Trent Klatt, the first guy to line up with the twins when they joined the NHL, to Markus Naslund to Alex Burrows to their current linemate, Radim Vrbata.
Naslund, who was matched with the twins in Vancouver on what was dubbed "The Ikea Line," knew the twins back when they were just kids hanging around the local hockey rink in Ornskoldsvik. "I remember two twins following their older brothers around," he told me—and he paused and chuckled for half a second when he said "twins." Naslund talked about playing with the Sedins at a charity hockey game before they came to the NHL. They were shy guys, but on the ice, you could tell they were exceptionally talented.
Vrbata told me the Sedins' special connection was the reason he signed with the team. But he admitted that being that third guy is a "unique" situation. "You play with guys who might have chemistry because they've played together a couple years," he said. "But they've been together their whole lives, and you can see that sometimes it's like they have one mind."
I talked to Trevor Linden, now president of the Canucks,2 who remembered his time on their line more than a decade ago. He said the Sedins knew each other so well that they didn't need to communicate with each other on the ice. Burrows told me the twins do communicate but that they sound "like dolphins" (!).
Everyone talked about the twins' chemistry, but the weirdest stuff came when I asked these guys—let's call them "Sedin triplets"—whether or not they're able to tell Henrik and Daniel apart. The answers varied: some insisted they could tell pretty easily, while others admitted to having no idea who is who. So how do you tell them apart, and which of their linemates has mastered the art? Read the story to find out.
---
Not to mention that some of the best movies are twin movies: Dead Ringers is tops, of course, and also everything starring the Olsen twins. ↩

Full disclosure: I grew up in Vancouver and had a Trevor Linden poster on my childhood-bedroom wall. When I interviewed him, I resisted the urge to address him solely as "Captain Canuckkkkkk!!!" ↩